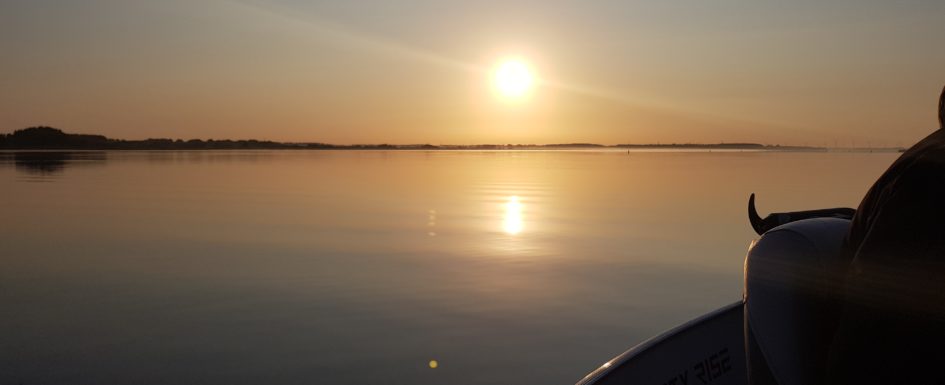 By Thomas Wending
On Saturday morning, Harry and I agreed on a water with a healthy amount of fish.. On this water it is quite possible to catch the predator trio: perch, pike and zander.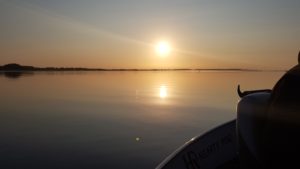 However, we both aim to focus on the zander that are hiding here. After having everything prepared , we slided the boat in the water and drove to the first spot. There are beautiful contours and  we have a lot of confidence in this spot.
The water is very clear, so we choose a natural color shad to fish with. After Casting a few times I found the right shad, which resulted in a nice catch, a zander.
We continued fishing this depth and contour. Immediately after the zander, "TOK" again a nice bite, ..have not been able to cash it, to bad it's a part of the game.
After a few minutes i was able to catch a perch. Later that morning it fell silent and we went looking for spot number 2.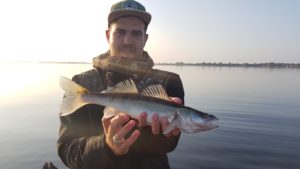 [/ wc_column]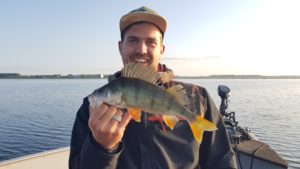 [/ wc_column]
[/ wc_row]
Arriving at the spot we saw on the sonar that there was considerably less fish. We tried a few casts, but it did not bring us the requested result, only some small perch. A little later we found out that the battery of the depth sounder suddenly stopped, so we decided to go back to the car and pick up the other battery.
After this we decided to take a different approach, because there has been no fish in the boat for a while now.
When we arrive at the 3th spot, the sonar showed us a large amount of fish. We seen some perch hunting in top water, Cool to see those spines coming out of the water and hunting on the baitfish. Not so much later the first catches of perch came in.
It stopped again for a moment, but out of nothing, suddenly a hard bite during jigging. I said to Harry: "Yes this is him, a good Zander". During the drill we see the fish for the first time, it turns out to be a pike and a nice one too. I said "i hope we will land it", because I did not fish with a steel tracer. I always use fluorocarbon up to max 0.33 mm for fishing on perch and zander. The pike went away, but it was possible to get him in the boat. The fish was perfectly hooked.
With 91 cm, a very nice pike on the Hearty Rise Pro Force 5-21 gram. [/ caption]
After the pike, it was a few cast quiet, then it became a real perch party and one after the other came in the boat, these were mostly fish under 30cm, but there were also a few above this size. We even managed to get multiple double hook ups for each other. In half an hour we have caught quite a few perches there. The count we lost, but it was certainly around 30 fish.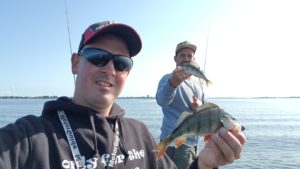 [/ wc_column]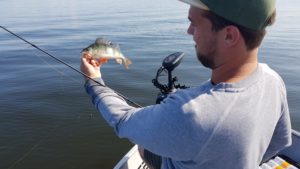 [/ wc_column]
[/ wc_row]
In the meantime we have already caught a lot of fish and that before noon, this is going well. We still hope for the bigger fish. After the weather remains quiet.
I still know how to catch a small pike. After about 2 o'clock we decide to go back to the first places of the morning, because we think that most Zanders are still in that part of the water. Less than 5 minutes at the spot of the morning and Harry is already catching the first small zander. "They are really here!" We say to each other. The cast after that Harry bit it again and this seems to be a better fish. First we have the doubt if it is not pike, but no … It's a zander and a nice one too!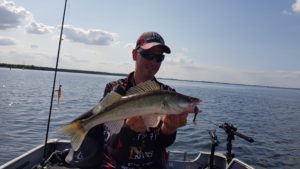 Not much later I also caught